1st ever ASEAN Battery and Electric Vehicle Technology Conference Aimed Towards Forging Vibrant Ecosystems and Strengthening Partnerships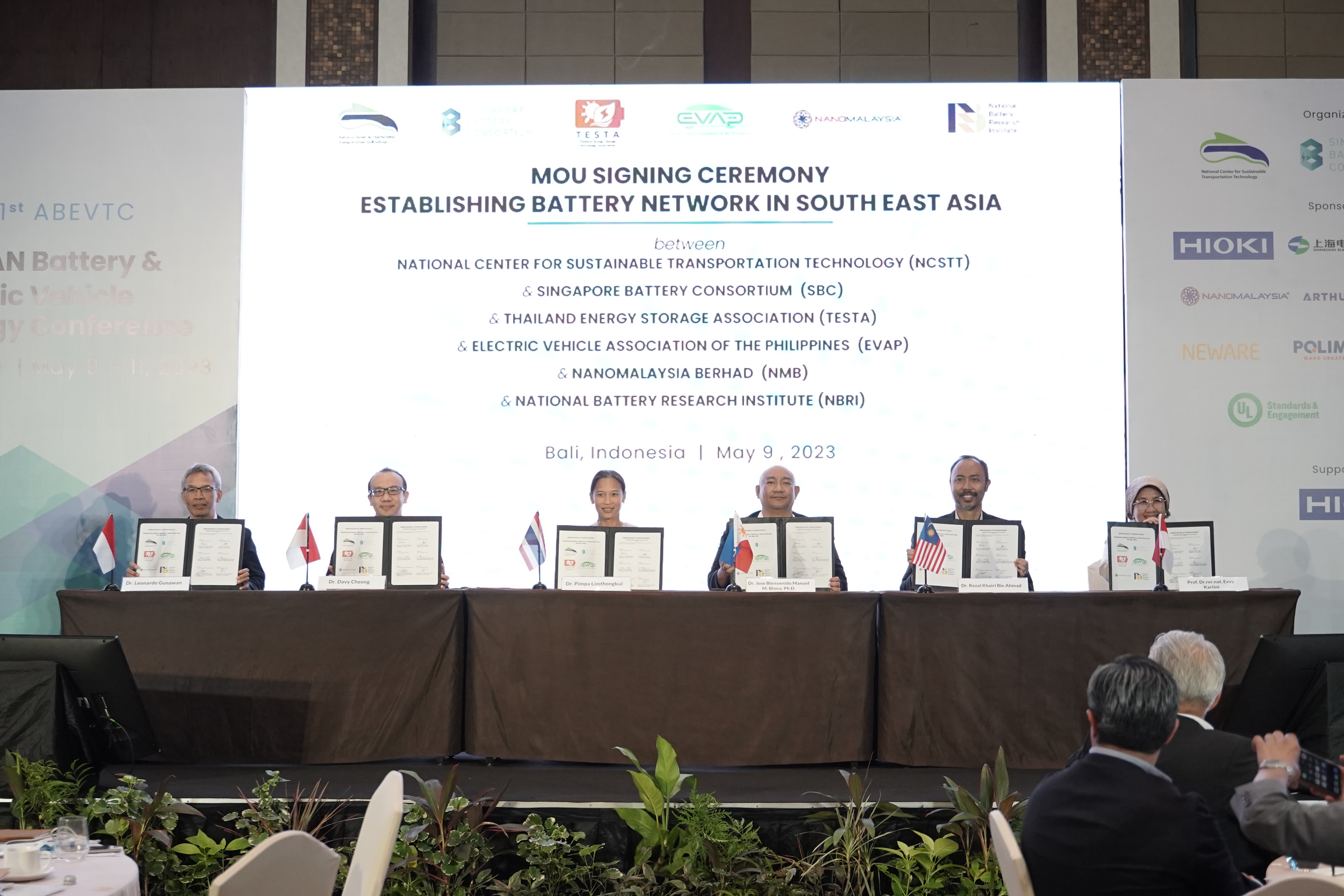 Bali, 9 May 2023 - Building vibrant ecosystems and strengthening partnerships among key players in the sectors of battery and electric vehicles (EV) are some of key outcomes of the 1st ever ASEAN Battery and Electric Vehicle Technology Conference (ABEVTC) aims to achieve.  which officially launched today in Bali and will run till 11 May.
Co-organized by the Singapore Battery Consortium, the National Center for Sustainable Transportation Technology (NCSTT) from Indonesia, and the Thailand Energy Storage Technology Association (TESTA), and also supported by Hioki E.E Corporation, a Japanese manufacturer for test and measuring instruments, the three-day conference will strive to bring new opportunities, innovative ideas, and exchange of knowledge amongst the professionals, academics and policy makers from ASEAN countries, and nourish relationships among industry players to build an ASEAN community for future collaboration.
The key highlight of the conference was the signing of a Memorandum of Understanding (MOU) between the six leading associations in the region, to explore research and development collaboration activities in the area of batteries. The parties intend to jointly develop and promote an ASEAN Battery Ecosystem that will facilitate the growth of the battery industry in the region.
Under the MOU, the associations will collaborate in the following areas:
• Jointly developing and promoting an ASEAN Battery Ecosystem
• Organizing events for networking opportunities
• Research and development in Battery Technology, Safety, Standards and the Circular economy
The six associations are Singapore Battery Consortium (SBC), National Center for Sustainable Transportation Technology (NCSTT) from Indonesia, and Thailand Energy Storage Technology Association (TESTA), National Battery Research Institute (NBRI) (Indonesia), NanoMalaysia Berhad and Electric Vehicle Association of the Philippines (EVAP). They have committed to working together to enhance the research and development capabilities of the region's battery industry, and to foster greater collaboration among industry players.
Dr. Davy Cheong, Director, Singapore Battery Consortium said, "ASEAN is an increasingly important region in the global ecosystem of battery and electric vehicle in supply chain, manufacturing, and R&D.  This tie-up looks to bring various players together, to work in synergy, and provide the right platform for networking, discussions, and collaborations."
Dr. Pimpa Limthongkul, President Thailand Energy Storage Technology Association (TESTA): "The MOU signing ceremony on battery development between the 6 leading organizations in Southeast Asia is expected to help strengthen the collaboration within our region.  It will be a good starting point for us all to move together towards economic prosperity in conjunction with sustainable development in an important and fast-growing industry."
Dr. Leonardo Gunawan, Director of NCSTT: "We are looking forward and excited to collaborate with ASEAN institutions to develop and promote the ASEAN Battery Ecosystem as a significant step towards an integrated and sustainable transportation system in Indonesia. Our partnership will advance battery technology, safety, standards, and circular economy research to build a competitive transportation industry with strong national support. This will contribute to the success and growth of the region's energy storage industry."
Prof. Dr. rer. Nat. Evvy Kartini, Founder of National Battery Research Institute (NBRI): "Indonesia has great potential in the battery industry, with abundant reserves of nickel, manganese, and other minerals needed for battery production. The National Battery Research Institute (NBRI) is eager to enhance national capacity by mastering technology, improving human resources, and actively advising policy. The collaboration with other ASEAN organizations will further enhance Indonesia's position as a key player in the regional battery market."
Dr. Rezal Khairi Bin Ahmad, Chief Executive Officer of NanoMalaysia Berhad: "NanoMalaysia is excited to be part of the multilateral partnership between organizations leading the charge in EV and battery technologies in Southeast Asia to activate regional supply and value chains for electric vehicles components to make investment in the region more strategic and attractive and ownership of EV more affordable."
Other important agendas that are expected at this event are a roundtable discussion on decarbonization in ASEAN between regional leading academics in the field of the battery and electrification and two panel discussions on swapping technology and the circular economy in batteries.
Furthermore, there were keynote speeches from representatives of leading companies in the Energy Storage System & EV industry such as , UL Standards & Engagement (ULSE),  Honda R&D Co.,Ltd (Japan), Mobility Open Blockchain Initiative (MOBI), ZF Japan Co., Ltd, PT Pertamina (Persero), and PT. Energi Kreasi Bersama (Electrum) as well as sharing sessions from more than 15 industry experts from HIOKI E.E. Corporation, ANWHA (Shanghai) Automation Engineering Co., LTD, Arthur D. Little, Indonesia Battery Corporation (IBC), CADFEM SEA Pte. Ltd., ULVAC Technologies, Inc, NanoMalaysia Berhad, Advanced Remanufacturing and Technology Centre (ARTC), Malaysia Automotive, Robotics and IoT Institute (MARii), Electric Vehicle Association of the Philippines (EVAP), and more. The topics for the sessions include ASEAN Battery Collaboration, ASEAN Electric Vehicle Roadmap and Development, Swappable Battery and Energy Storage Systems, Battery Circular Economy, Design & Production Technology, Safety Test and Calibration.
***
About ABEVTC
About National Center for Sustainable Transportation Technology (NCSTT)
The National Center for Sustainable Transportation Technology (NCSTT), or Pusat Pengembangan Teknologi Transportasi Berkelanjutan, is from Indonesia, and is a unique multidisciplinary research center focused on conducting, supporting, and encouraging applied engineering and technology for transportation systems in Indonesia. NCSTT has been recognized globally as the research center which aims to foster the national transportation industry in developing national economics and welfare. NCSTT has built network linkages and research collaborations with national transportation stakeholders such as automotive, railway and aircraft industries, as well as research institutions and universities, both domestic and foreign.
About Singapore Battery Consortium (SBC)
The Singapore Battery Consortium (SBC) aims to foster strategic R&D partnerships amongst public research performers and industry players in the development and advancement of battery technologies. SBC aims to develop and catalyze the local ecosystem in battery related technologies through this platform. It is hosted at A*STAR's Institute of Materials Research and Engineering (IMRE) and supported by the National Research Foundation Singapore (NRF). Over the past decade, commercial interest in battery development has been on the rise, keeping pace with demand for better battery performance and different performance characteristics for increasingly complex mobility and portable devices. To meet this demand, the Singapore Battery Consortium will bring research outcomes from our laboratories into the market by enabling researchers to understand business requirements, while giving companies access to the latest battery research and technologies to augment their product development efforts.
About Thailand Energy Storage Technology Association (TESTA)
TESTA or THAILAND ENERGY STORAGE TECHNOLOGY ASSOCIATION aims to help connect stakeholders, educate public, promote understanding, and nurture technological advancements on energy storage technologies in Thailand. TESTA had been officially registered on January 25, 2021, by 5 founding institutes including National Science and Technology Development Agency (NSTDA), Khon Kaen University (KKU), King Mongkut's University of Technology Thonburi (KMUTT), King Mongkut's University of Technology North Bangkok (KMUTNB), and Electric Vehicle Association of Thailand (EVAT). Over 60 members of the association include energy storage technology enthusiasts from various sectors ranging from academic, research institutes, public sectors, policy makers, and private industries.
About Hioki E.E Corporation
HIOKI E.E Corporation is a Japanese-based company that has been at the forefront of electrical measuring and testing equipment for over 80 years. The company is deeply committed to sustainability and has set an ambitious 2030 Beyond Measure Vision, which is aligned with the United Nations' Sustainable Development Goals (SDGs). HIOKI's 2030 Beyond Measure Vision outlines the company's long-term goals and objectives, including reducing its environmental impact, promoting diversity and inclusion, and fostering innovation.
In addition to its sustainability efforts, HIOKI is also pushing for the growth of the battery and electric vehicle (EV) industry. The company is developing cutting-edge technology that supports the production and testing of batteries, such as battery impedance testers, and is collaborating with other industry players to advance battery technology. HIOKI is also actively promoting the adoption of EVs by offering a range of products that support EV charging and battery testing. By supporting the growth of the battery and EV industry, HIOKI is contributing to the transition to a more sustainable future.